Why invest in WMS and PIM: the 5 most important reasons!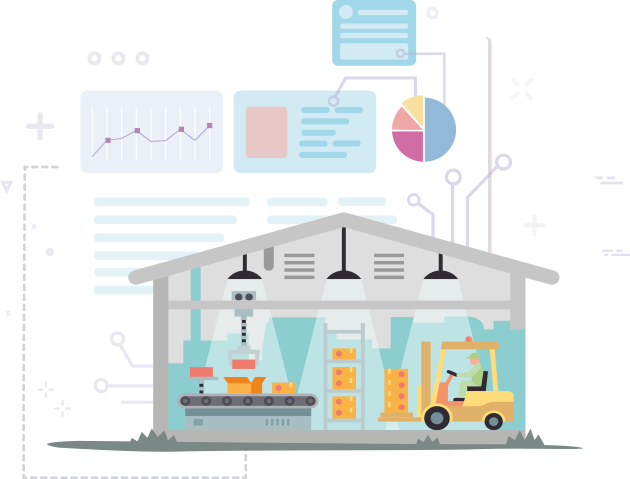 Are you considering deploying a WMS and PIM system? Read how these systems can be of service to your company!
A WMS (warehouse management system) or PIM (product information manager) can be extremely useful for your company. Especially when you are growing fast as an online store. Read what a WMS and PIM system can do for your company!
1. A centralized overview
You no longer have to switch from one system to another, with a WMS and PIM system you have all your information clearly arranged in one interface.
A WMS system ensures that you as a store owner have a good insight into your own stock management. From the number of goods to order picking or scanning packages, you manage everything from one source. This optimizes and speeds up these crucial processes and leaves less or even no room for errors.
For the PIM system, a central interface ensures that you no longer have to switch between different channels. You manage all product information in 1 place and then send it out to your webshop and other sales channels.
Get in the HaydiGO . system as an example. Our unique all-in-1 system unites WMS, PIM, Data feed management and logistics integration in one interface. This way you manage all your products, warehouse, channels and logistics links in a connected system.
2. It saves a lot of time and money
A WMS or PIM system takes a lot of organization time away from employers and employees.
A WMS system provides direct insight into stocks and ordering processes. This gives you more control over the warehouse processes. For example, has an order been placed, but the product is not available in the main warehouse? At HaydiGO this is then indicated as a back order. By seeing this at a glance and in real-time, you as a company can inform your customer properly and directly.
A PIM system speeds up the processing of information. Staff sometimes spend days processing a new collection of products, for example. By having all your products in 1 system, this saves a lot of time. In the HaydiGO PIM you can choose within the interface which product information you display on which channel. This way you can create different descriptions, also in various languages, per product for other channels. So you no longer waste time processing products on different channels!
3. Smaller room for error
By having a WMS or PIM you reduce the margin of errors within the organization. If you have to keep track of many different systems and processes, mistakes can be made easier.
With a WMS system such as HaydiGO, blockchain technology has perfect protection against errors. The data structure of the system is immutable, so you or employees cannot change or delete it.
As an entrepreneur, you no longer have to spend hours of work importing and exporting excel files with a PIM system. After all, you have to put your products on the webshop, but also on many other channels. There is a good chance that one of the dozens of files contains an error. With a PIM system you no longer have to work with import and export, but you have a live connection with your webshop and data feed channels. At HaydiGO, data feed management has never been easier with the integrated PIM connection.
4. You don't have to be a professional (for HaydiGO)
The interface of a WMS or PIM can differ a lot. It just depends on how the software company has set it up. If you are looking for a WMS or PIM system, we advise you to try various demos. This way you will immediately become acquainted with the system and you can navigate it yourself. Is this easy or difficult?
At HaydiGO, for example, you don't have to be a professional to be behind the buttons. Employers but also employees can easily navigate the interface. As an employer, you can also grant limited access to the software system. That way you have perfect control.
5. It's a great investment
By having a WMS, PIM, Data Feed management and logistics integration that are connected in real-time, you will develop quickly as a company. Due to the automation, you as an organization spend much less time on things that you previously did by hand. This not only saves time, but also a lot of money.
By being able to better serve your customers, this system earns money back and you can focus better on other things with your employees. In this way HaydiGO grows with companies.
Want to test an all-in-1 system for free?
If you are considering a system, you can read deeply about its functionalities and possibilities. However, you also lose a lot of time with that. Try the HaydiGO system now for free and without obligation! This will take you one step further and give you more insights.
take fast Contact up and start testing today!